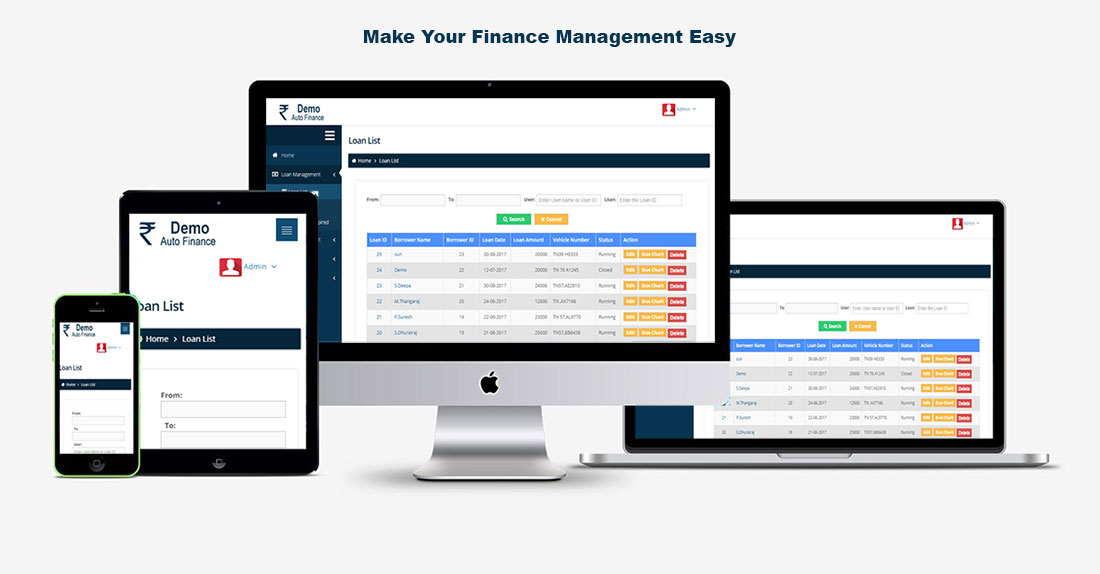 Manage Your Loans Online
This WebApp helps you to manage your
finance business online quickly and efficiently,
letting you focus on your business.
Reduce Manual Excel Work
Easily aggregates Loan installments,
Interest price from percentage, calculates your balances,
paid and unpaid installments, and then prints them out.
Provide Restricted Access to Your Partners Online
Gives option to create partners role with restricted access online
your partners can check loans, balances, profits and
reports without making any changes.
View up-to-date Records Online
Quickly gives you number of running and closed loan,
Month wise total loan amount given outside,
incomes and profits records online.
Get Your Business Monthly Reports.
Gives you good layout printable invoices
for loan installments,
Payment entries and monthly profit report.
Get Mobile and Device Friendly Appearance
It's all screens responsive and all device browser
compatible design, you can access
your WebApp from any device and any screen.
SMS Alerts to Your Customers
Send SMS alert to your
customers to
remind loan payments and expiry.
Features
Loan Management
Create new loans
Create borrowers.
Manage Loans for already registered borrowers OR new borrower.
Manage All running and closed loans
Manage installment expired loans in separate table.
Update loan and interest installments.
Print each paid installment.
Print installments list with loan and interest amounts.
Update and delete loan and borrower details
Cash Management
Add and manage partner investments.
Add and manage office and other expenses.
Withdraw and track amounts from profit amounts.
Monthly Reports
Track and print monthly income, outcome and expenses transactions.
Trackon print monthly profits
User Modules
Create and update options for admin.
View and print options for partners.
Pricing Models
Webapp package cost
WebApp Product Price ₹17,000 + ₹3060 [GST 18%]
Annual Maintenance Cost
Annual Maintenance Cost ₹5,000 INR. AMC includes following items.
Backup – Every day database backup by cron jobs query and Monthly manual backup.
Backup restore – On any damage OR data loss, VSS will restore all the data and ensure good running WebApp.
User creation – Users creations on already developed user roles.
Subdomain – Free subdomain with your business name. [Ex: Yourbusinessname. financeapp.in]
Hosting – Free 1GB storage space for hosting webapp.
Free Support – Yearly 6 hours of support through Team-viewer.
Direct visit – Based on location cost from ₹750 to ₹1500 will be charged for direct support.
Additional Developments will be charged based on the new requirement.SMS alert features will be charged additionally based on selected plan.